Books
NEW BOOK
Bedford, New Hampshire
September 20, 2020. Early Arrival Press announces the release of Rebuilding Trust in Healthcare: A Doctor's Prescription for a Post-Pandemic America, by Paul Pender, MD.
The coronavirus pandemic has underscored erosion of trust in healthcare that has been present long before the onset of COVID-19. Dr. Pender's analysis of the myriad problems confronting our healthcare system is captured in a case-presentation format. Dr. Pender describes his assessment and plan for rebuilding trust in clear language for patients, healthcare providers and policy makers.
Dr. Pender effectively argues in "Rebuilding Trust in Healthcare" that the patient-physician relationship should be the fundamental building block for any proposal for healthcare reform. Pender states, "I consider the relationship between the individual patient and physician a sacred pact—an expression of mutual trust dating back to the time of the ancient Greeks. When I became a physician, I took the Hippocratic oath, an expression of altruism toward my fellow human beings. However, working in the world of modern medical care, doctors face challenges for living up to the tenets of the oath." Advocating for patients and for physicians has been a passion of Pender's throughout a medical career spanning four decades.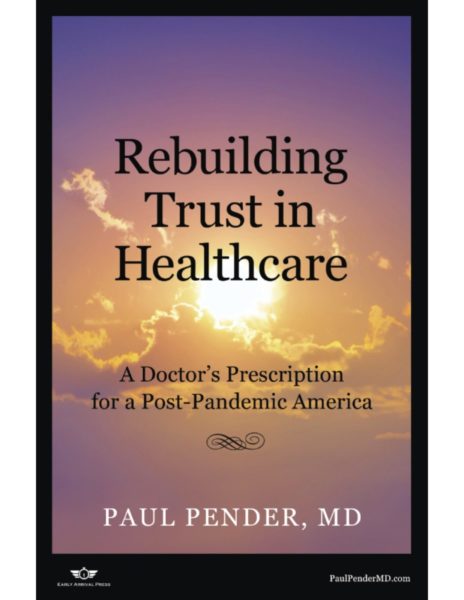 Dr. Pender serves as an advisor to Vxtra Health, a company committed to collaborating with physicians to earn trust and manage healthcare costs.
"Rebuilding Trust in Healthcare: A Doctor's Prescription for a Post-Pandemic America" (Early Arrival Press, Fall 2020); ISBN 978-0-578-75596-0. $25.00 paperback, $14.99 eBook
For individual retail sales: Amazon or Barnes and Noble
A discount is offered on group purchases of 20 or more books.